WEDDING FLOWERS
The professional team at Kimberleys specialise in the fine art of wedding floristry and endeavour to create beautiful unique designs to make your wedding day truly unforgettable.
From the initial consultation we take great pride in creating an exciting and inspirational experience from the planning to the day itself.
Our team share an overwhelming passion for beautiful flowers and design and love to be able to offer brides a comprehensive variety of styles, including rustic, wild and trending, not forgetting a modern twist to the most traditional of brides.
We have fabulous suppliers from the specialist English local growers to the best Dutch growers in Holland, whatever you would like, we can provide it. We always use the highest quality products available, creating bespoke designs with an abundance of fragrance, exciting textures and beautiful colours to suit your wedding.
We have a large selection of props available from Trees to milkchurns, chaircovers to woodslices whatever you need we can provide it.
However intimate or grand your wedding day will be, we like to give an exemplary service from start to finish helping to create memories that will stay with you forever.
Contact Kimberleys today on 01934 253554 to discuss your wedding requirements and you'll receive a FREE consultation and quotation, without any obligation.
CLICK HERE TO VIEW OUR WEDDING PACKAGES
CLICK HERE TO VIEW OUR WEDDING GALLERY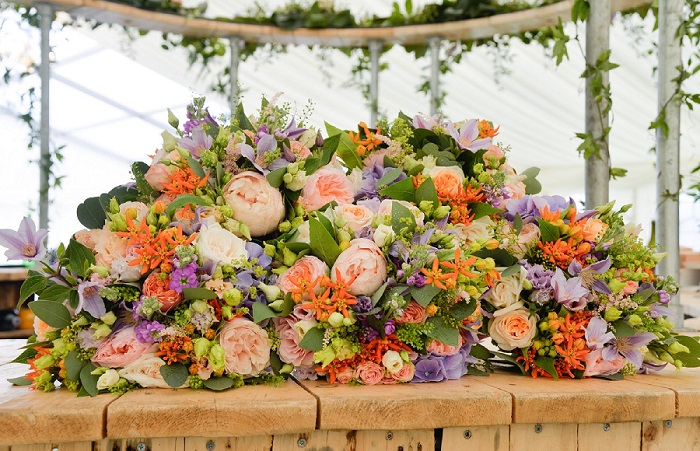 "Flowers are love's truest language."
Park Benjamin, American poet.